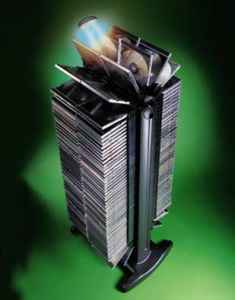 Sharper Image CD Power Tower Motorized Organizer - $30
New York City, NY • 08/22/2007
Sharper Image CD Power Tower Motorized Organizer model #SI794TNM





Motorized lighted 200-CD storage rack rotates for quick, easy selection.





Retails for $159.95





Rotates 200 CDs 360° forward or back in just seconds. CDs remain totally secure.


Lamp illuminates the back, edge and front of each box as they rotate past.


Space-saving design occupies barely more than a square foot of floor space.


Runs on 6 D batteries or can be plugged in using the included adapter.

Posted by: OhSoHandy User
Located: New York City, NY
(No map found for this address)